Twoflower Amigurumi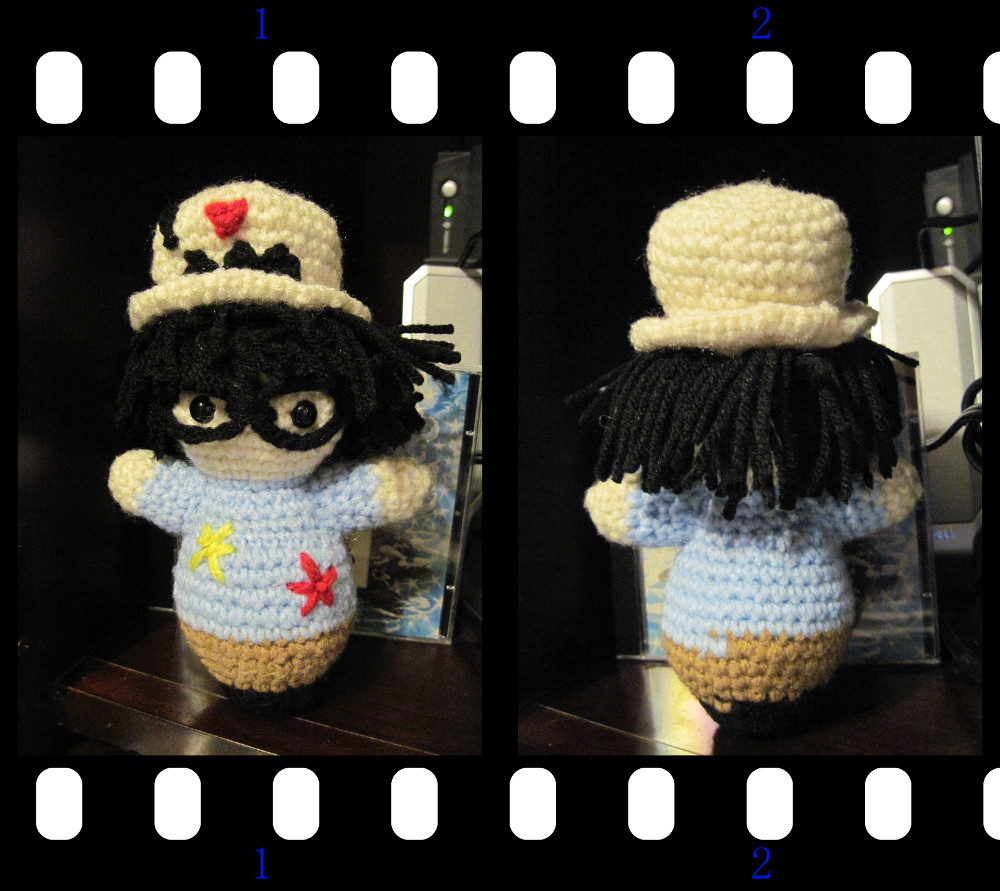 The second of my Discworld amigurumi characters. This little tourist is sporting a crocheted I <3 Ankh-Morpork hat and a "Hawaiian-style" shirt. Hat and body are stuffed with polyfil, the yarn is just off the shelf medium worsted, and the yarn hair is a sort of sewn-on "wig" with a crocheted "cap". The eyes are 9mm safety eyes, and both the lettering on the hat and the glasses frames are crocheted and sewn on.

The hat is also secured on, and Twoflower is weighted with a large hardware nut, allowing him to stand upright without propping. The design is something of a cross between the Kidby version and the admittedly fairly cute Sean Astin version in the film adaptation of The Colour of Magic. Yes, I agree, Astin is probably not what I would have picked in my dream casting, but I did like the glasses and the Hawaiian-style shirt. He looked very touristy, at least.
As with Rincewind, this pattern was something of a riff on the free patterns offered by
Geek Central Station
. And, yes, you keen-eyed viewers, that
is
a From The Discworld CD case behind him. And if you're simply dying for more detail, click to embiggen slightly.
And, after some thought, I decided to build him a "cubeecraft" iconograph. The previews below link to the PSD file, which you can print, cut out and fold. Mine came out about 1 inch by 3/4 of an inch, and now hangs neatly on a yarn strap large enough that it can be removed.